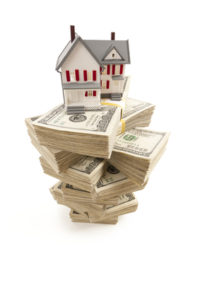 Whether you want to sell your home now, or well… never, it is always a good idea to increase the value of your home.  Here are 10 smart ways to maintain and improve your home value.
1)  Let There Be Light – Lighting can enhance a home's appeal in many ways.  Soft lighting brings warmth to empty spaces, while high wattage bulbs can make small spaces feel larger.  If your home doesn't get enough light, solar tubes are an attractive and energy-efficient way to bring in natural light (and are much cheaper than skylights!)
2)  Don't Procrastinate on Care and Maintenance – Before you undergo the costly vanity upgrades, like your new custom kitchen, do the necessary stuff first… like fixing leaks, insulating the attic, fixing problematic gutters, replacing old windows, and such.  I know it's not fun, but these items will quickly increase the value of your home, as well as make it much easier to sell.
3)  Do Your Pruning and Landscaping – Unruly trees and bushes can block the front view of your home and if they can't see it, they won't buy it.  Landscaping does make a difference as well.  Often, spending a few hundred dollars can bring you much larger returns.  Not to mention, if you don't maintain your large trees, fallen branches could cost a great deal in damages.
4)  Create Space – Open-floor plans and large spaces are quite popular these days and buyers want homes to "flow."  So, check with a structural engineer and knock down that non-structural wall!
5)  Upgrade Your Front Entry – If your home does not have an overhang or awning over the front door, many buyers notice immediately.  No one wants to be in the rain while shuffling for their keys.
6)  Replace or Repair Your Flooring – Replacing the flooring will often pay returns during your home sale.  If replacement is not necessary, like in my home where Pottery Barn wishes they had my original hardwood floors, a few well-placed nails can help to eliminate squeaks.  It is also very worth it to replace broken tiles.
7)  Do Some Cheap and Easy Bath Upgrades – If you are ready to sell your home, but don't want to do a costly bathroom overhaul, spend $500 on a bathroom facelift.  Remove rust stains, apply fresh caulk, update doorknobs and cabinet pulls, clean the grout… probably wouldn't hurt to get a new toilet seat!
8)  Neutral Wall Colors – Most brokers recommend neutral wall colors.  I do if you already need to update your paint.  If your more colorful paint is fresh and you genuinely think there are many people who would appreciate it, go ahead and try to sell.  Before I was a realtor, I sold my home and my realtor recommended I repaint my walls neutral colors.  I did, and when I stopped by my former house several months later to see if the new owners had a piece of my mail, they had painted my living room almost the exact color that it was before I changed the paint to neutral!  On the flip side, most realtors have had buyers who didn't want to purchase a home because of the paint color and they couldn't visualize the home repainted.
9)  Eliminate "Potential Issues" – Have a friend come over and let you know everything that pops out about your home that could potentially be wrong, such as a broken step or way outdated wallpaper.  If buyers see too many issues that raise their eyebrows, they will be more hesitant to make an offer.
10)  Green, Green, Green – Green homes sell faster and for more money.  Make sure you have proper insulation.  If your heating, air conditioning, or water heater need to be replaced, new ones are often 30-40% more efficient, and even more so when you purchase ENERGY STAR appliances.  I always point it out to my clients when homes have new heaters and water heaters, because it is something they won't have to worry about for a few years.
https://theconsciousgroup.com/wp-content/uploads/2013/07/moneyhouse.jpg
424
283
Allison Parks
https://theconsciousgroup.com/wp-content/uploads/2016/08/logo.png
Allison Parks
2013-07-31 09:12:02
2016-09-18 03:42:05
10 Ways to Increase Your Home's Value