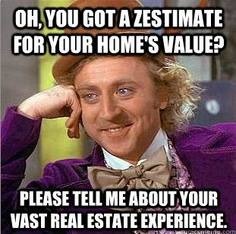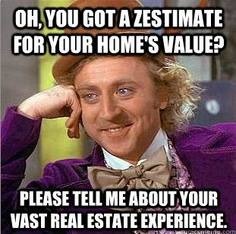 Do NOT trust "Zestimates."
Maybe the Zestimate for your home's value will be correct… I would say they are correct about 20% of the time by accident. The other 80% of the time, they are WRONG. Sometimes Zestimates are higher than your homes value, sometimes they are lower. I have seen them be off by $100,000 on a $300,000 home! Point being, there currently is no technology that can correctly assess a home's value. It's best to get a good realtor to give you a Broker Price Opinion for your home's value and we are happy to provide those for people at any time. (Note: a Broker Price Opinion is NOT an appraisal, nor are realtors qualified to provide you with a home appraisal unless they are also a licensed appraiser.)
With that being said, we have also run into tons of problems with our clients shopping for homes on Zillow.
At Conscious Real Estate, we like to refer to Zillow (or it's best friend, Trulia) as "The Heartbreaker."  Why? Most often, when our clients find homes on Zillow or Trulia, the home has been under contract for quite awhile. We have seen numerous cases where the home has sold months prior. 
Here, we'll break down what the MLS system is and how it is the only system to use when looking for your new home…
MLS stands for Multiple Listing Service and is endorsed by the National Association of Realtors. The system originated in the 1800's when real estate agents would get together and share information on the properties that they had available.
Over time, more and more realtors joined the National Association of Realtors and as technology advanced over the last century, the service became digital.
Also over time, and with the advent on the Internet, also came commercial businesses trying to emulate the MLS by way of Trulia, Zillow and the many others out there. Unlike the MLS, Trulia, Zillow and Realtor.com are not regulated by any oversight such as the National Association of Realtors.
They are called "aggregate syndicators" in the industry because essentially, they are just media companies who take the legitimate information (and often copyrighted photos and more) from the MLS system and duplicate the listing on their site. The "suggested realtors" that appear on the sidebar for these properties are simply agents who are paying for advertising with them – not the agent on record and usually an agent who has no idea they are being suggested for that property – they simply showed up there due to the program's marketing algorithms.
Additionally, realtors know they don't have to follow the rules on Zillow.  If a realtor posts her listings on Zillow, she can leave it up for as long as she likes with no regulation.  Interested buyers will see this property, get excited, and call the realtor.
The realtor then informs the prospective buyer, "I'm so sorry. This home is under contract, but I can certainly help you find something similar." See what she did there? She just got a new client from Zillow, by being sneaky. On the MLS, properties must have their status updated very quickly and realtors can't play such reindeer games.
Further, these aggregate syndicators take listings from wherever they can find them. Take this case study for example from Geoffrey Shiering, a San Diego real estate agent and California broker:
"I've personally published a "house for sale" advertisement on Craigslist (a home that was not on the MLS), and in less than 24 hours the property description and photos that I'd posted on Craigslist were being displayed alongside my local San Diego MLS listings on Zillow. Anyone can publish anything on Craigslist, whether it's real, fake, exaggerated, or a downright scam. And when Zillow displays unverified, junk information right alongside MLS listings, the public assumes that the junk is just as accurate as the MLS data."
Unbelievable. So, before you spend all your time researching online, contact your local real estate agent and tell them what you're looking for so that they can get you accurate, real-time listings and get you on track for that new home you've been longing for.
If you have any questions about the MLS or want to start getting notifications, contact us here and we'll get in touch with you right away. Just let us know some of the details (how many baths, bedrooms, fenced yard, neighborhoods, open floor plan, price range etc.) and how often you want to receive notifications by email. You can choose from daily, weekly or monthly and can always change the frequency as well.
And, when you purchase a home with Conscious Real Estate, you will be making a positive impact on your community. We donate 10% of our own commission to a nonprofit of your choice. Find a home, make a difference – that's the way we do business.
https://theconsciousgroup.com/wp-content/uploads/2015/07/Willy-Wonka-Zestimate.jpg
234
236
Allison Parks
https://theconsciousgroup.com/wp-content/uploads/2016/08/logo.png
Allison Parks
2015-07-27 18:47:54
2016-09-18 02:57:16
Should I Search For Homes on Zillow?