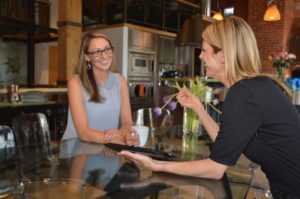 As with all relationships, communication is key and this is certainly the case when you choose a realtor.  Your home is one of your most important investments.   Buying or selling a home is a complicated process –some deals go smoothly and some have difficulties.  Your realtor should strive to make the process as easy going as possible for you – I personally aim to make the process fun for my clients.
1)  It should be obvious that a realtor should return all your emails and phone calls in a timely manner, but I hear people complain often that their realtors do not do so.  Your realtor works for you and while realtors cannot be accessible 24/7, you shouldn't have to wait too long with your important questions and concerns.
My stepmother was working with a realtor in Las Vegas when the realtor went on vacation.  If I go on vacation and will not be accessible by phone, I would email all my clients to let them know that I would be leaving, have an assistant ready to handle my client load in my absence, and have a voicemail recording outlining how to reach my assistant and my dates of absence.  I would also have a way to check in daily with my assistant if there are any questions that needed to be answered.  This realtor just left for two weeks.  No voicemail.  No email.  No notification.  Just left.  I told her to find a new realtor – that's unacceptable.  Sure, we all want to run away sometimes and "disconnect," but not at the price of someone who trusts and relies on you.
2)  Your realtor should be educating you about the home buying or selling process.  The Colorado Contract to Buy and Sell Real Estate is 17 pages long.  You should understand exactly what you're signing, because it is a legally binding contract, so your realtor should be taking the time to educate you adequately.
Buying and selling is a very involved process, and you should be comfortable with everything that happens during the process.  Of course, stay realistic… we can't sell your $400,000 home for $500,000, but you should understand why your home is being listed for a certain price.  Similarly, if you're buying, beware of a realtor who seems too "salesy."  Every now and then, if I see a great deal, I will stress this to my clients, but I'm not the one who will be living in the home and paying the mortgage.  I want my clients to be happy with the home they have selected, so I point out the potential problems that I see in a home or neighborhood as often as I point out the positives.  No property is perfect, but I want my clients to be aware of any concerns, so if they make a choice, they do so with eyes wide open.
3)  You should like your realtor.  You may potentially have to spend a lot of time with this person;  at times, I have taken clients to see 50 plus properties before they found the right one.  The time you spend with your realtor shouldn't be annoying or awkward – it should be enjoyable!
Note:  You, as a home buyer or home seller, should also seek to communicate well with your realtor.  Your realtor may be fantastic, but if you don't clearly define your needs and priorities, your realtor probably can't read your mind.  Don't let your experience suffer because you aren't being proactive about getting what you want and need from your real estate transaction.
As your home is one of your greatest investments, let's face it – you probably worked really hard to earn your home!  A realtor should respect that and hold their relationships with their clients in utmost regard.  Without our clients, our business cannot survive.   Beyond my desire to have a thriving business, I enjoy the opportunity to be a positive element in my clients' lives.  I find it to be a great honor to help people with their homes – our homes are our safe zone, our sacred space.  I enjoy attending my clients' house-warming parties, meeting their families, and watching everyone move forward in their lives.  My clients have brought a lot of joy to my life and every person deserves a realtor who really has their best interests at heart.
In the words of Abraham Lincoln, "Whatever you are, be a good one."  So, if you're a realtor… BE A GOOD ONE.  Scratch that… be GREAT.
https://theconsciousgroup.com/wp-content/uploads/2014/02/Falene-and-I.jpg
638
960
Allison Parks
https://theconsciousgroup.com/wp-content/uploads/2016/08/logo.png
Allison Parks
2014-02-28 09:00:17
2016-09-18 03:13:12
Why Communication With Your Realtor Is Important