The Hope House of Colorado really does bring hope to young women, especially 16 – 21 who often lack resource provided to 
pregnant teens and low-income women.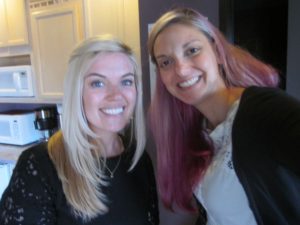 Sara Littlejohn (left) of Hope House and Kim Johnson of Conscious Real Estate
I found out from a recent tour of Hope House that there aren't many programs to help teen moms after they give birth. Hope House seeks to provide them not only with outstanding resources, but also a sense of family, community, and strength.
There are two parts to Hope House. One is the residential center where teen moms and their children actually live. I was shocked (utterly surprised!) to find out how much Hope House cares about the girls down to the smallest, special, important details. They actually interview them ahead of time to get a sense of their style and then paint and decorate their rooms based on that interview.
Hope House offers teen moms lots of in-kind donations like diapers, clothes and toys for their children
The moms get their own rooms and their child gets his or her own nursery. It's not clinical feeling or looking like some would expect. It's homey, it's safe, and Hope House makes it theirs.
Hope House also has a separate building, a few miles away, which holds the development and program team. There, teen moms in the Hope House program can get childcare, a meal or snack, activities for bonding (think: pedicure and movie nights!), as well as help with resumes, classes on how to carry yourself in an interview, and free GED assistance (so awesome!).
The GED program is a huge cornerstone of Hope House's offerings. One of the many goals of the organization is to help the girls and women graduate high school, go to college, or find a career. The ultimate goal is to help these women and girls become self-sufficient and off government assistance.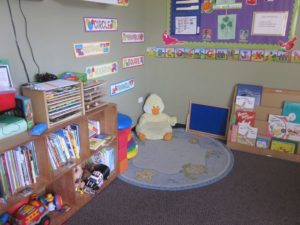 Hope House offers daycare and early learning classes for kids of teen moms in the program
Hope House recently won a substantial grant which allows them to build on a plot of land they had purchased in the same block as the residential program. With help from the grant and donors, Hope House will soon be able to combine both sides of their organization and help even more teen moms become confident, self-sufficient women.
At Conscious Real Estate, we know how important donors are to the health and stability of a non-profit. That's why we're committed to donating 10% of every commission when we sell a home to a non-profit or charity of our client's choice.
We want to urge donors of Hope House to consider us for their real estate needs. The impact is huge. We can help together!
To set up a free consultation, just call us at 303.908.9873 or email us! Expert Realtor, Allison Parks can be reached at [email protected] and Kim Johnson, Sidekick Do-Gooder Extraordinaire, can be reached at [email protected].
We also want to urge our clients to consider Hope House as their beneficiary of choice. Donations from our home sales average between $500 – $2500 (of OUR money, not yours!).
Curious about the impact you could make?
$80 = Counseling (one professional session for a teen mom or child)
$79 = Bus Pass (one-month bus pass for a teen mom)
$125 = GED Test (covers the government fees for GED certification)
$50 = Computer needs (covers Hope House's computer, IT, & software needs)
$25 = Educational Software
$100 = Glasses (Help a teen mom cover vision costs)
$500 = New Tires (Self-sufficiency requires reliable transportation)
$30 = Prepare a teen mom for her first day of work
$75/$300 = Groceries (Feed a teen mom and her child)
https://theconsciousgroup.com/wp-content/uploads/2015/03/Hope-House-2.jpg
562
750
Allison Parks
https://theconsciousgroup.com/wp-content/uploads/2016/08/logo.png
Allison Parks
2015-03-18 20:40:02
2016-09-18 03:03:07
Nonprofit of the Month - Hope House of Colorado