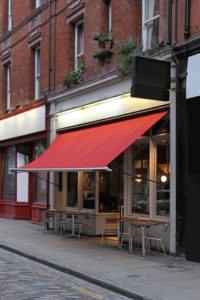 Boxcar Coffee Roasters:  With two locations (at Boulder gourmet shop Cured and The Source in Denver's RiNo district), Boxcar richly deserves the strong buzz it generates for its roasting expertise and high-altitude brewing methods, showcased in every last espresso blend and single-origin coffee.  Also, The Source is freaking awesome.
3350 Brighton Blvd.; 1825 Pearl St., Boulder, 303-527-1300 
Crema Coffee House: This is a true coffee connoisseur's cafe, using only the French Press or lever espresso machine, they see the brewing of the brown stuff as a craft and art form that deserves great appreciation.
2862 Larimer; 720-235-2995
Denver Bicycle Cafe: This coffee shop in uptown is a bike-repair shop, a coffeehouse, and a craft-beer bar – all the things Denverites cherish most under one roof, complete with a fierce commitment to local vendors.
1308 E. 17th Ave.; 720-446-8029
 Gypsy House Café: So authentically Mediterranean in its décor and atmosphere, guests will feel like they've walked out of Denver and into Istanbul. Enjoy a cup of Turkish coffee, take a pull from their hookahs, listen to music, or get your tarot cards read.
1279 Marion St.; 303-830-1112
Hooked On Colfax: This hipster hangout on Colfax, (imagine that…) pours hot, simple and delicious coffee and espressos, as well as offering free wi-fi and hosting monthly local art shows.
3213 E. Colfax Ave.; 303-398-2665
Pablo's Coffee:  A pioneer in the local roasting movement, this Alamo Placita coffee shop has it all.  (Ok, actually, they don't have wifi.)  Well-worn space bedecked with mini-chandeliers, check; messenger bag-toting regulars, check; house blends accompanied by the requisite pastries. If you buy their reusable cup, the drink is free with additional discounts on future drinks when you bring your cup.
630 E. Sixth Ave., 303-744-3323; 1300 Pennsylvania St. Ste. 102, 303-832-1688
St. Mark's Coffeehouse:  Ok, I'll be honest.  This is not the best coffee in Denver… and the food isn't that great… but the ambiance has kept me going back for over a decade.  It just has an unparalleled charm.  If you want a similar ambiance without the coffee, go next door to the Thin Man, a bar under the same ownership.
2019 E. 17th Ave; 303-322-8384
Wash Perk: Tucked into the historic Wash Park neighborhood three blocks west of the park, this coffee shop boasts free wi-fi, lots of room for your laptop, a book and magazine library, and amazing pastries, both traditional and gluten-free.
853 E. Ohio Ave.; 720-542-9202
https://theconsciousgroup.com/wp-content/uploads/2014/02/Coffee-Shop.jpg
424
283
Allison Parks
https://theconsciousgroup.com/wp-content/uploads/2016/08/logo.png
Allison Parks
2014-02-28 09:22:14
2016-09-18 03:12:35
An Alphabetic Guide to Denver's Best Coffee Shops