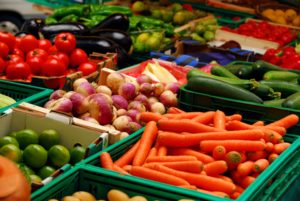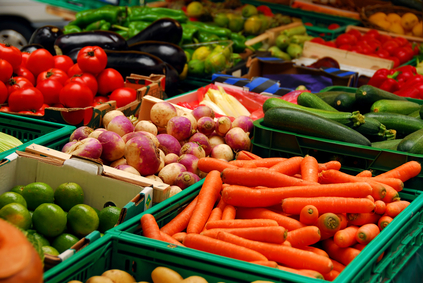 As we kick-off the summer, one of the many things we have to look forward to are the numerous farmers' markets held throughout the Denver metro area.  Conscious Real Estate loves farmers' markets, as they provide a great opportunity to pursue healthy living through fresh and organic food, while supporting our local farmers and the "locavore" movement—which benefits our environment by lessening the distance produce travels from its source and increased organic farming.
In addition to fresh produce, farmers' markets also offer plenty of delicious baked goods and craft foods, and other unique specialty items of interest along with various entertainment and family-friendly festivities.  Farmers markets also provide a great way to explore the character of neighborhoods which you might be considering for a new home.
The following are a list of Denver area Farmers' Markets worth a visit!
When: Saturdays, May 4 – October 26, 8am – 1pm & Wednesdays June 19 – September 25, 9am – 1pm.
Where: E.  1st  Ave & University Blvd., Denver
City Park Esplanade Fresh Market
When: Sundays, May 12 – October 27, 9 am – 1 pm
 Where: E. Colfax Ave. & Columbine St., Denver
Highland United Neighbors Farmers' Market
When: Saturdays, June 1 – October 12, 9 am – 1 pm
Where: 1500 Boulder St., Denver
South Pearl Street Farmers' Market
When: Sundays, May 19 – November 3, 9 am – 1 pm
Where: On the 1500 block of Old South Pearl St., between Florida Ave. and Iowa Ave., Denver
When:  Sundays,  June 16 – October 13, 8:30am – 12:30pm
Where: Founder's Green next to the intersection of E. 29th Ave. and Roslyn St., Denver
When: Sundays, June 2 – August 15, 10 am – 2 pm
Where: Alaska Dr. and Teller St., just east of Alameda Ave. and Wadsworth Blvd., Lakewood
When: Wednesdays, 10am – 3pm, June 12 – October 30
Where: Aspen Grove, 7301 S. Santa Fe Dr., Littleton
Highlands Ranch Farmers' Market
 When: Sunday, 10 am – 2 pm, May 5 – October 27
Where: HR Town Center, 9288 Dorchester St., Highlands Ranch
When:  Wednesdays, 10am – 3pm, June 13 – October 24
Where: 4252 Wadsworth Blvd., Wheat Ridge
When:  Mondays, 10am – 3pm, June 17 – October 28
Where:  Havana Exchange, 2712 S. Havana, Denver
When:  Saturdays; 8am-2pm, from 1st Saturday of April to 3rd Saturday of November
Wednesdays; 4pm-8pm, from 1st Wednesday of May to 1st Wednesday of October
Where:  13th Street, betwen Canyon and Arapahoe, Boulder
https://theconsciousgroup.com/wp-content/uploads/2013/06/farmersmarket.jpg
283
423
Allison Parks
https://theconsciousgroup.com/wp-content/uploads/2016/08/logo.png
Allison Parks
2013-06-04 22:33:06
2016-09-18 03:53:03
Conscious Real Estate Loves Denver Farmers' Markets