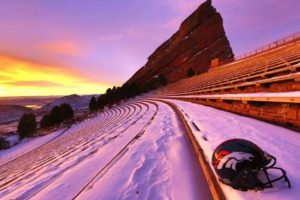 A few days out from the Super Bowl, Denver is feeling the love.  United in Orange!  Of course, I absolutely want to crush the Seahawks, because seriously, WHO DO THEY THINK THEY ARE?  But what I appreciate even more is a feeling of unity in the city that has made itself my home… So now is a great time to show some love for our city.
We are really so lucky to live here.  We can drive an hour from our home and be surrounded by truly majestic nature.  The "purple mountain majesties" is NOT an exaggeration.  We have maintained our economy whereas many other parts of the United States been struggling.  We have fantastic sports teams to watch and a plethora of sports we can engage in on our own and WE DO.  We have developed a ton of local businesses that are a delight to support, so we make the friendly faces behind the businesses our friends.  We have no shortage of beautiful historic homes – granted, I do real estate, but I can drive down Curtis St and applaud out loud for the colorful Victorians that were built by the people who started this city and I never get sick of it.  My father taught me to appreciate craftmanship and quality and our homes have it!
So, here is a visual love poem to Denver called "Breathless," created by Air Ball Creative for TedxMileHigh.  I don't know these guys, but they are welcome to come over for coffee any time!  I always have at least a couple of tears by the end of this video and I have seen it at least 8 times.  If you like Ted, check out this love letter to the Mile High City written by TedxMileHigh fellow Sam Faktorow.
And here is a mashup video of the "Orchestra Show Down" made for the 2014 Super Bowl, with the Denver Philharmonic Orchestra playing against the Seattle Philharmonic.  Denver is playing "Rocky Mountain High," versus Seattle's "Raindrops Keep Falling on My Head."
And finally, a bit of my own "art."  (Do NOT quit your day job, Allison.)  I attended an event for Project Valentine, which is a local organization which makes Valentine's Day care packages for people receiving chemotherapy on Valentine's Day.  A GREAT nonprofit organization – click here if you would like to get involved. (The event was at The Art Salon in City Park West – also a place worth checking out!)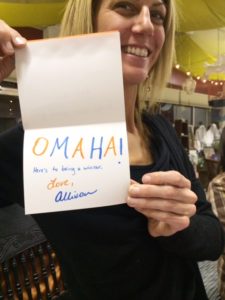 I love you, Denver.  Thank you for supporting me.
Omaha!
https://theconsciousgroup.com/wp-content/uploads/2014/01/Denver-Bronco-Red-Rocks.jpg
640
960
Allison Parks
https://theconsciousgroup.com/wp-content/uploads/2016/08/logo.png
Allison Parks
2014-01-31 07:19:32
2016-09-18 03:22:51
Love for the Mile High City for Super Bowl 2014! Go Denver!