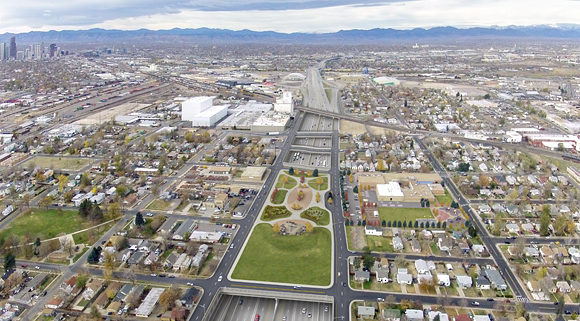 Many people living in Denver have never heard of the Globeville and Elyria-Swansea neighborhoods, although these neighborhoods are almost as close to downtown as the Highlands.  These neighborhoods are north of downtown Denver and are dissected by the junction of I-70 and I-25.  Globeville and Elyria-Swansea consists mostly of smaller Victorian homes built in the late 1800's which housed the workers of the Globe Smelting and Refining Company which processed raw minerals brought from the Colorado Rocky Mountains.
The Globeville and Elyria-Swansea neighborhoods have faced many problems in the past, due to a lack of urban planning in the neighborhood as well as environmental issues caused by the nearby industries of what is now Denver's River North or RiNo area.  However, Denver Mayor Michael Hancock and Denver City Councilwoman Judy Montero seek to transform the area into a "Corridor of Opportunity."  "This part of the city has been long avoided by planners, mostly because there were easier projects to tackle," states Kelly Leid, project manager.
This project, the "North Denver Cornerstone Collaborative," seeks to provide sidewalks, new drainage, new roads, and new infrastructure including vertical buildings to bring jobs and investment to the area.  A total of four new light-rail stations will be constructed in the neighborhood and the East Commuter Rail Line will cut through on its way to Denver International Airport.  Another project could remove the aging interstate viaduct over the neighborhood, burying it underground and replacing it with a sprawling park, which is a $1.8 billion dollar proposal.
Even if the projects come to fruition in their current form, it will take at least a decade before they're all fully realized.  In that time, multiple administrations could come and go.  Major improvements have been announced for these areas in the past and then simply did not happen.  In addition to lack of follow-through on past promises, KUNC, a community radio station for Northern Colorado, interviewed several residents in the area and found that area residents are concerned about the gentrification of the Globeville and Elyria-Swansea neighborhoods which occurred in the Denver Highlands neighborhoods. 
Mayor Hancock is pushing for change – to turn what has been called the back door of Denver into the new front door.
https://theconsciousgroup.com/wp-content/uploads/2014/01/Globeville.jpg
454
580
Allison Parks
https://theconsciousgroup.com/wp-content/uploads/2016/08/logo.png
Allison Parks
2014-01-28 08:25:52
2016-09-18 03:25:12
Are Denver's Globeville and Elyria-Swansea Neighborhoods Headed for Change?